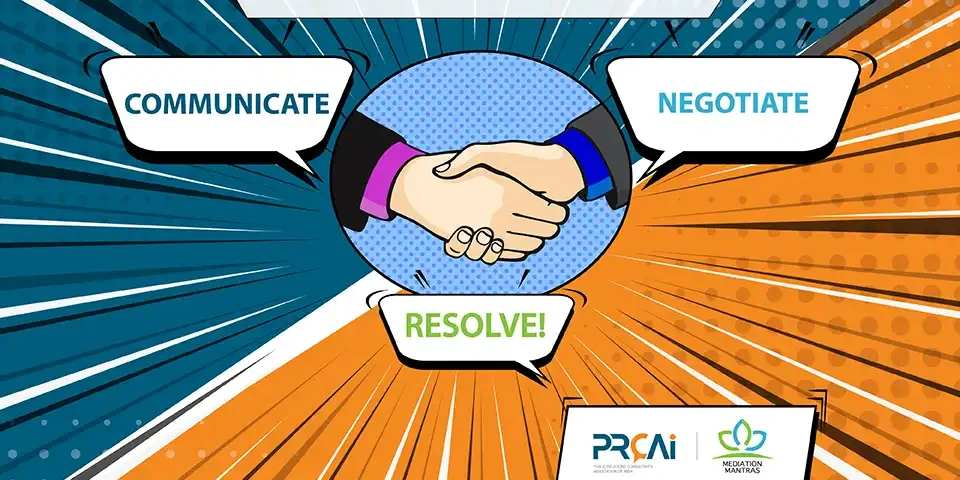 ANNOUNCEMENT
PRCAI Partners with Mediation Mantras
Launches a First-of-its-kind Initiative in the PR Industry; Offers PRCAI Members a Brand New Mechanism for Conflict Resolution through Mediation
New Delhi, Monday, Mar 6, 2023: Public Relations Consultants Association of India (PRCAI), joined hands with Mediation Mantras for the first-of-a-kind initiative to support the PR Industry to help resolve professional and commercial disputes through the international best practice of Mediation.
Mediation First is an initiative by Mediation Mantras, and is being launched with PRCAI to create awareness around the art and science of Mediation and to help the various stakeholders engaged in formal Public Relations activities use Mediation to resolve disputes amicably.
The purpose of the Mediation First initiative is to encourage a Mediation mindset, that helps individuals and organisations shift from an adversarial win-lose way of approaching business and human interactions, to a win-win way of life for all. Adopting a Mediation mindset can help prevent issues and incidents from escalating into crises.
The Mediation First initiative by Mediation Mantras will help strengthen the PRCAI Voluntary Code of Conduct and help preserve and enrich ethical and professional practices that are core values of the association and to help foster credible relationships between member agencies, their employees, clients, the media, and other PR ecosystem partners.
"Mediation is a world-class global skill and with growing complexities and growth of the PR industry in India, we are excited to explore innovative solutions that will strengthen PR industry-practices to foster ethical and professional behaviours. Mediation mindset will not only help all of us negotiate a positive, sustainable path to dispute prevention and resolution, but will help build a unified culture to make the public relations industry more professional, ethical and prosperous."
Deeptie Sethi
CEO, PRCAI
---
The PRCAI Mediation Desk that is operational from March 1, 2023, and monitored by Mediation Mantras, will give PRCAI Members, their employees, and their clients, access to professional Mediators, who can write about their concern or issues via email, or using the Mediation Request Form here. Mediation Mantras will evaluate the case for Mediation and recommend a way forward.
"We would like to institutionalise Mediation as the first port of call to resolve disputes in the PR industry in an amicable and peaceful manner. We are delighted to bring the benefits of Mediation and its best practices to the PR fraternity with this sustainable conflict resolution mechanism. "
Radhika Shapoorjee
Founder and CEO of Mediation Mantras
"Members of the PR fraternity will have access to a panel of experienced Mediators who will be neutral and impartial, and will help parties address disputed matters in a constructive,
dialogue-based manner, in an effort to arrive at conclusive, even creative solutions to their problem."
Mehernosh Shapoorjee
Co-Founder, Mediation Mantras
---
"The purpose of the Code of Conduct is to develop a culture of mutual respect and heathy dialogue amongst industry members, and to nurture the spirit of one team and one industry. In case a member breaches any of the rules of engagement, or indulges in behaviour that leads to a dispute between client and agency, employer and employee, investor, or community at large, the PRCAI Mediation Desk will help address disputes in their early stages, and prevent them from escalating into crises."
Kunal Kishore
Vice President, PRCAI
---
Disputes and conflicts are inevitable in our personal and professional lives. Keeping this in mind, Mediation sensitization workshops for PRCAI members will be conducted, to help PR Leaders, Human Resources Teams, PR Practitioners and other stakeholders to leverage Mediation techniques that address internal and external conflicts thereby finding better, smoother ways of working and growing together as a professional industry.
Founded in 2001, Public Relations Consultants Association of India is the India's most credible and influential flagship trade association in public relations.
Through its code of conduct, PRCAI promotes professional standards to create a more prosperous PR industry in India and encourages its 85 plus member base across categories to adhere to the highest standards of ethical practice.
PRCAI is also the member of the International Communications Consultancy Organisation (ICCO), the umbrella body for 41 PR associations and 3,000 agencies across the world.
PRCAI has a strong North, South, East, and West regional network which provides cohesive and uniform support to its members.
Mediation Mantras is a Mediation Consultancy that offers a wide range of services including Private Pre-Litigation Mediation, Mediation Training, and Mediation Awareness and Sensitisation Workshops.
Mediation Mantras' Mission is to make mediation the default mantra for dispute resolution of any kind – internal, external, personal, professional, or commercial.
Mediation Mantras offers its clients a panel of verified and experienced Mediators across India, and through partnerships with various Mediation Associations in the country.
Mediation Mantras has a strategic partnership with Singapore International Mediation Centre (SIMC) Singapore, which gives clients access to some of the best Mediators around the world.
For More Information, please contact