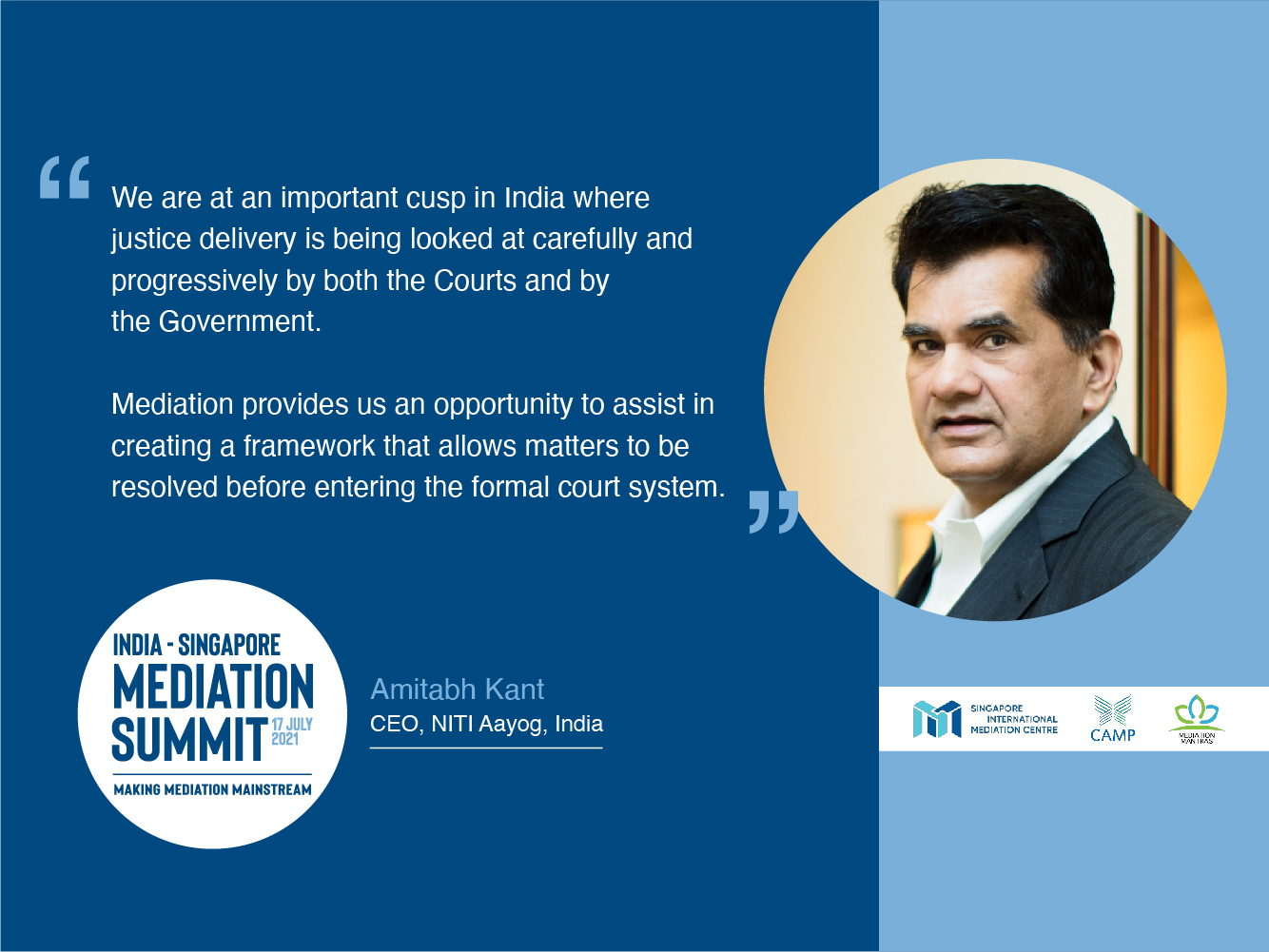 Address by NITI Aayog CEO Mr Amitabh Kant at ISMS2021
17th July 2021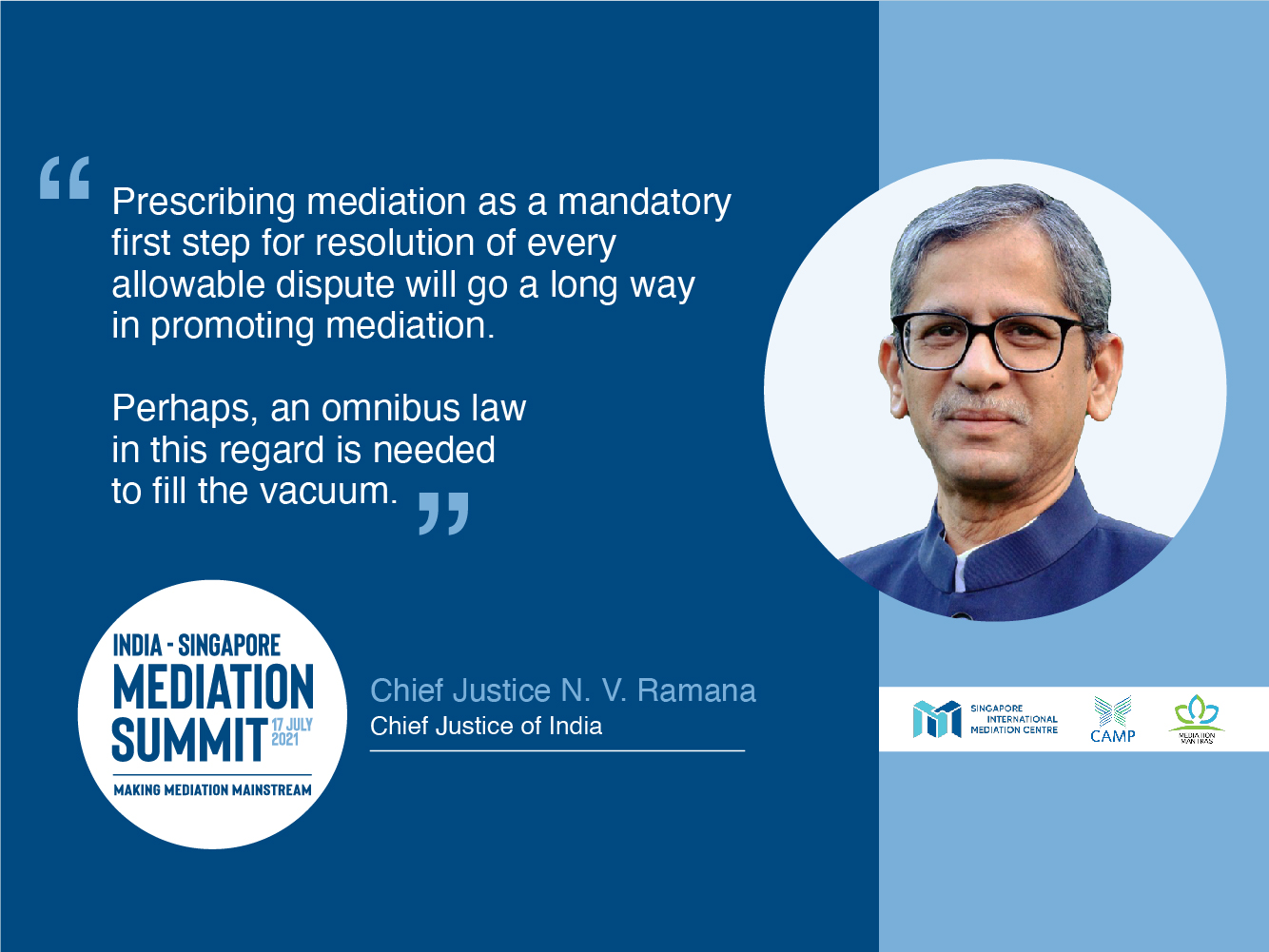 Keynote Address by CJI N.V. Ramana at ISMS2021
17th July 2021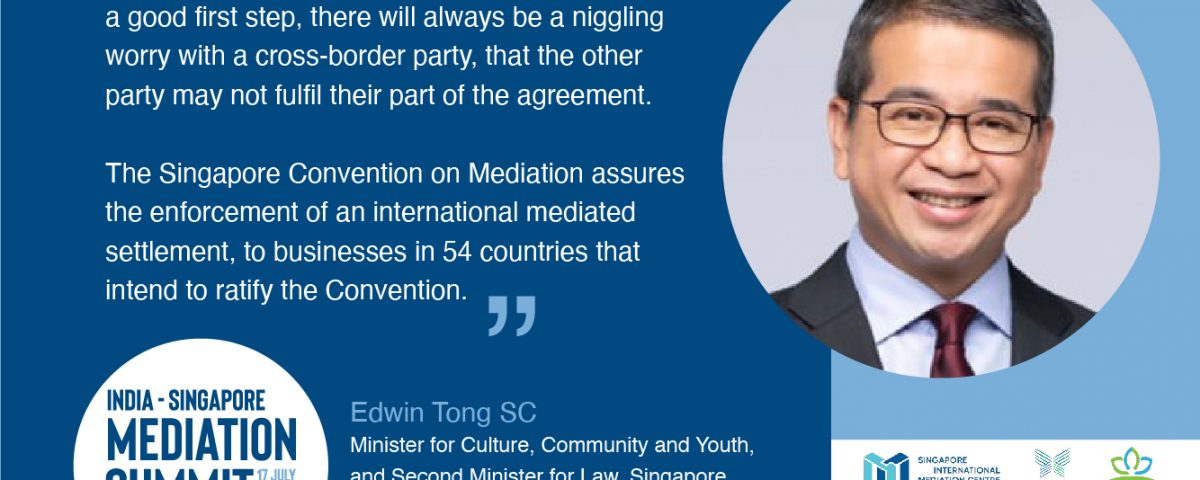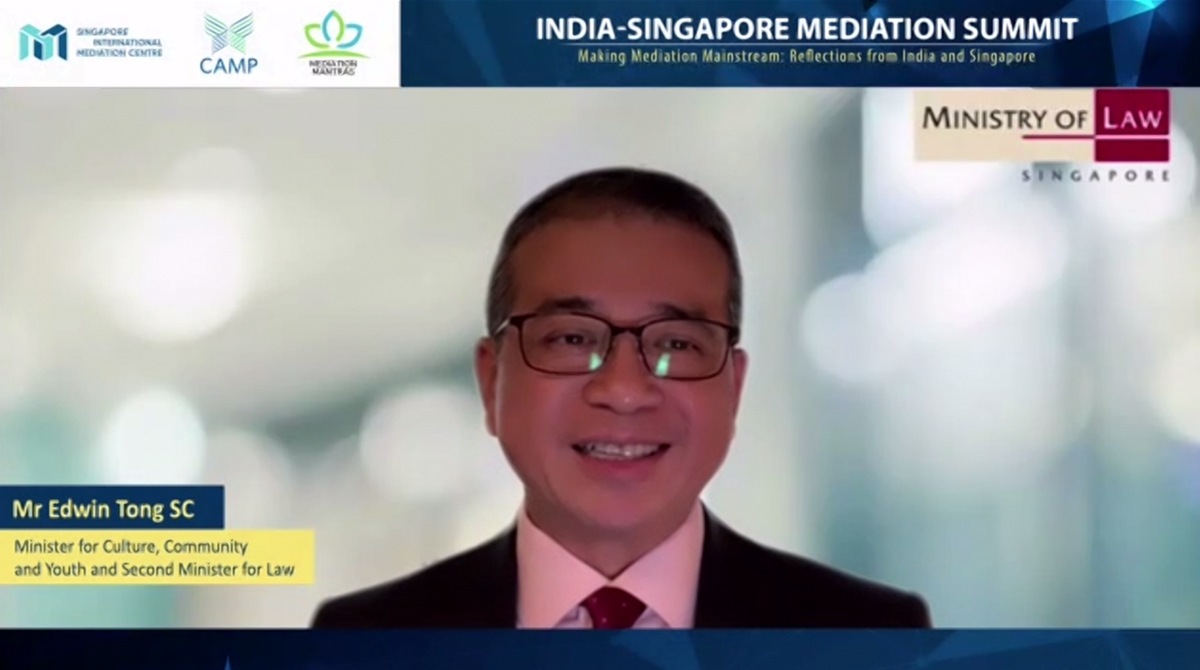 Address By
Mr. Edwin Tong SC, Minister For
Culture, Community And Youth and
Second Minister For Law, Singapore
India - Singapore Mediation Summit 2021
Honourable Mr. Justice N.V. Ramana, Chief Justice of India
The Honourable the Chief Justice Mr. Sundaresh Menon, Chief Justice of Singapore
Honourable Judges and Distinguished Members of the Bar from India, and Singapore, and elsewhere
Distinguished guests 
Ladies and gentlemen
A very good morning to those joining us from India, and good afternoon to the rest of us in Singapore. Thank you for being with us on a Saturday.
I am delighted to be here today, to give the opening remarks at the inaugural India  Singapore Mediation Summit.
In more normal times, we would have organised this Summit in India, and I would be speaking to you in person, and interacting with you during the breaks. But unfortunately, we are still battling COVID-19, although the situation has improved since May, when we originally planned to hold this Summit.
I would like to express my appreciation to the organisers – SIMC, CAMP Arbitration and Mediation Services, and Mediation Mantras – for adapting to the situation; for pressing on, and turning this into a virtual event. 
This shows your mettle, and more significantly, the importance you place in mediation, and in the collaboration between us.
I last visited India in August 2019, together with Minister Shanmugam, just after the Singapore Convention on Mediation Signing Ceremony and Conference. 
During that trip, I met a number of judges, lawyers, in-house counsel, and mediators, to discuss about the Singapore Convention and international dispute resolution in general. Some of you may be tuning in today.
I recall the strong support among Indian businesses and practitioners for: a) the use of mediation as a means to resolve cross-border disputes, and b) the Singapore Convention as a means to enforce the mediated settlement agreements that arise from the mediation.
I wasn't very surprised. Mediation in India dates back many centuries. Respected village elders, known as Panchayats, mediated in community disputes. The often quoted story was that of two women claiming to be the mother of a child, and how the Panchayat identified the mother. 
Business associations also often called on impartial, neutral and respected businessmen, or Mahajans, to mediate commercial disputes between their members.
So, the use of mediation to resolve conflicts is not unfamiliar to many in India.
As Indian companies become more and more international, and deal with business partners from around the world, it will be natural, and I would say necessary, to extend mediation to international commercial disputes.
The economic activities in India are only going to increase. India is now the 6th biggest economy in the world. 
The Centre for Economic Business Research projected that India will overtake the UK to become the 5th largest in 2025, and race to the 3rd spot by 2030.
If we just look at our two countries, trade and investment between Singapore and India are also on the rise.
Singapore is the biggest contributor to FDI inflows into India from April 2020 to March 2021, a figure which has continued to grow from the preceding period in 2019 to 2020, despite COVID-19; and Indian companies also form the largest overseas contingent that have invested in Singapore. 
There is therefore impetus for us to collaborate more closely on mediation. It's a dispute resolution mechanism that has been historically practised in our societies. Our companies would be familiar with it, and even welcome it, given that it is generally faster, more cost-effective, and most importantly, helps to preserve business relationships.
It's especially imperative during this period, when more disputes may arise due to disruptions in supply chains and various restrictions; and businesses may be on tighter budgets. The pandemic will pass someday, and they would want the business relationships to remain harmonious.
In mediation, what's most vital is having a mediator who understands both parties – not just the industry they operate in, but also the cultural nuances.
Therefore, when we set up SIMC back in 2014, we insisted on having the best mediators from around the world, and not just from Singapore. 
This is so that to parties will be able to have access to mediators who are able to meet their requirements and their counter-party's requirements.
Today, SIMC has an international panel of over 70 mediators from 17 jurisdictions with expertise in varied areas, including 6 from India. This is supplemented by specialist mediators from key jurisdictions. During my trip to India in August 2019, we empanelled 21 from India.
This will be further enhanced after SIMC and CAMP Arbitration and Mediation Services sign an MOU to collaborate on a Joint COVID-19 Protocol.
Under this Protocol, one co-mediator is selected from SIMC's panel of mediators and another co-mediator from CAMP's panel of mediators, who are familiar with the different legal and cultural contexts. The filing fees will be reduced as we recognise that businesses are already facing difficulties due to COVID-19.
Mediation will be conducted online or in hybrid form to overcome the current limitations on travel.
SIMC has successfully managed the mediation of the first case under their Joint COVID-19 Protocol with the Japan International Mediation Centre (JIMC):
The case involved a complex and high-value dispute between an Indian entity and a Japanese entity over a joint venture agreement. The parties had commenced arbitration but wanted to attempt mediation first.
SIMC and JIMC each appointed a co-mediator who was familiar with India and Japan respectively; they helped the parties to build a stronger cross-cultural understanding and foster rapport, with the centres' end-to-end support. 
By the second day of the mediation, the parties had agreed in principle, to settle the dispute. This was within seven weeks of the suspension of arbitration.
Having the dispute to be resolved within weeks, and in a noncontentious manner, has undoubtedly saved a lot of time and resources.
I am confident that the Protocol between SIMC and CAMP will similarly benefit dispute resolution users in Singapore and India. 
While getting a mediated settlement agreement is a good first step, there will always be a niggling worry that the other party will not fulfil their part of the agreement. The Singapore Convention on Mediation, which facilitates the enforcement of mediated settlement of an international commercial dispute, offers this assurance.
So far, 54 countries have signed the Convention, and 6 countries have ratified the Convention. India was one of the first countries to sign the Convention, and we look forward to India's ratification soon. 
We will be happy to share Singapore's experience in this regard.
Singapore will be organising the Singapore Convention Week and UNCITRAL Academy events from 6 to 10 September 2021, where thought leaders from around the world will share their expertise and experience on mediation and other alternative dispute resolution mechanisms. I invite you to participate in the events, which will be streamed online.
Before I end, I would like to thank SIMC, CAMP Arbitration and Mediation Practice, and Mediation Mantras once again for inviting me to speak.
I hope to be able to travel to India soon, to meet old friends, as well as make new ones.
I wish you a fruitful Summit ahead.
Thank you.