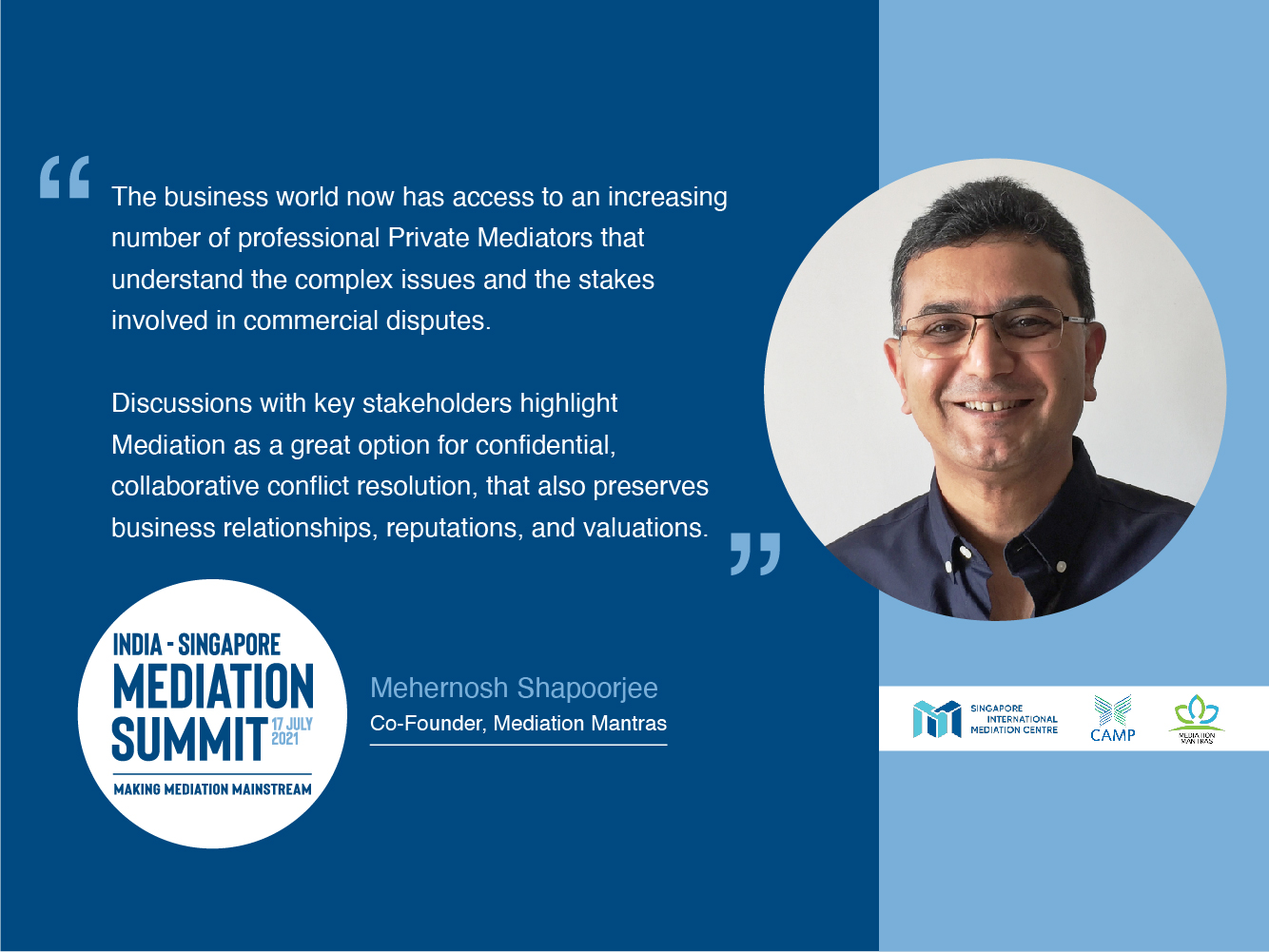 ISMS2021 Closing Remarks by Mehernosh Shapoorjee
17th July 2021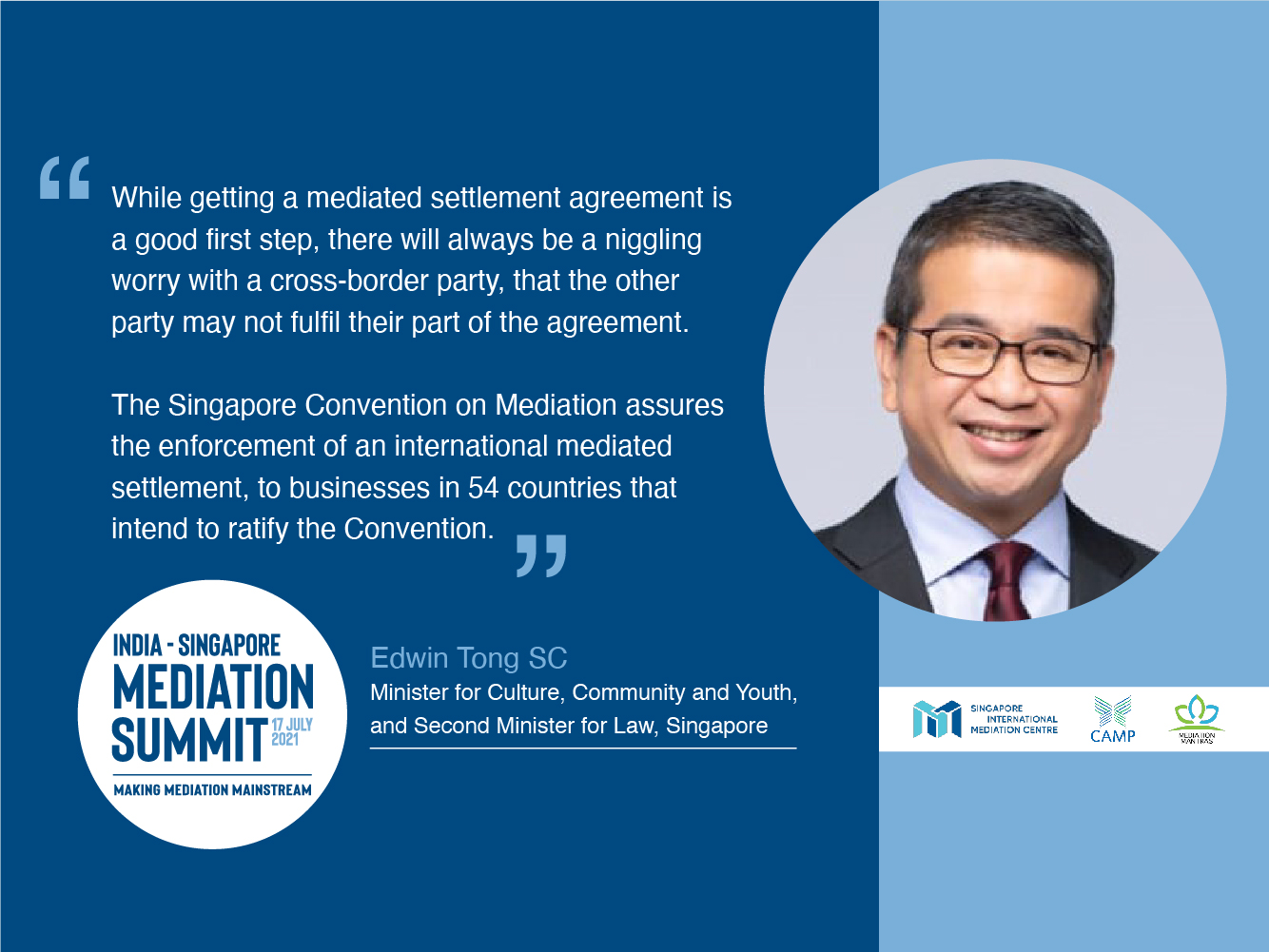 Address by Minister Edwin Tong SC at ISMS2021
17th July 2021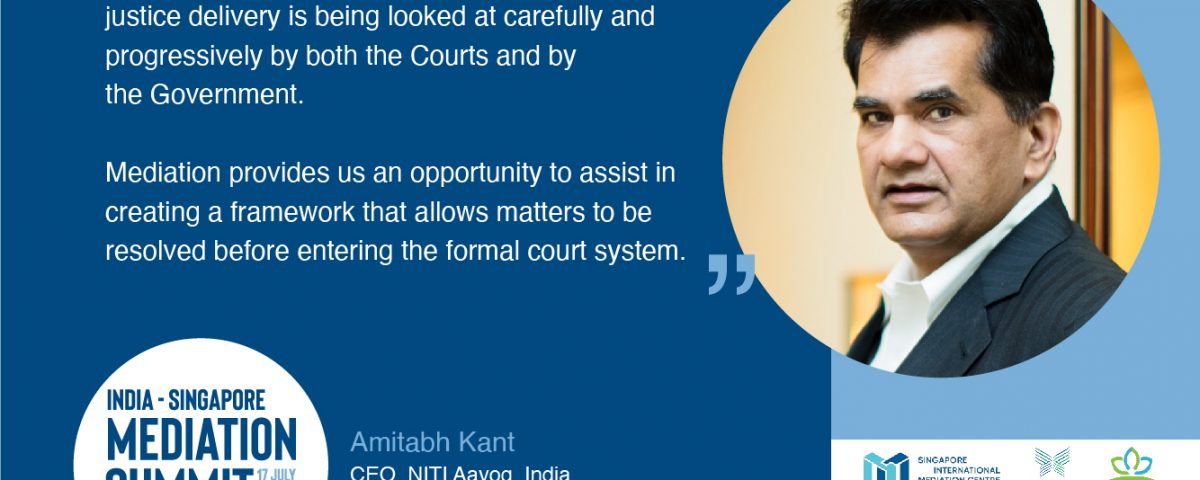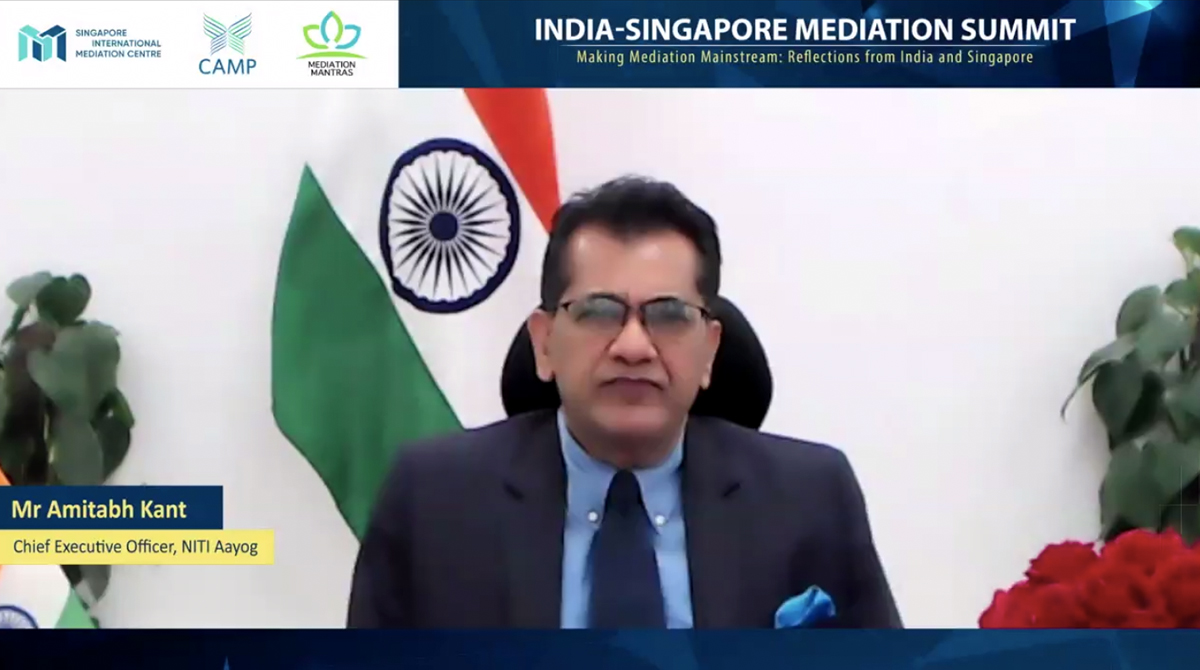 Address By
Mr. Amitabh Kant, CEO NITI Aayog
India - Singapore Mediation Summit 2021
Good morning Honourable Chief Justices of India and Singapore, distinguished delegates in attendance this morning, and the organizing committee of this Conference.
I am honoured and delighted to be addressing this august gathering today, and am privileged to be speaking after the remarkably insightful addresses by both the Honourable Chief Justices.
Mediation is an immensely important dispute resolution mechanism, and one which is gaining prominence and priority in the Indian context.
In India, the judiciary is leading the roadway to equitable justice, through the eCourts Mission Mode Project whose impact will percolate both vertically and laterally.
The pandemic has necessitated adjustments that are adaptive and innovative, including those in the dispute resolution ecosystem. It now falls upon institutions to determine how equitable distribution can be achieved, even in the realm of justice delivery.
Each arm of the Indian system must and is working towards a solution driven future, and that is where the change will be visible.
The pandemic has forced a shift towards solutions that minimize contact and can be activated through technology, including for resolution of disputes.
At NITI Aayog, we have worked extensively on measures that can help enhance efficiency and accessibility to justice for the common man.
In this context, NITI Aayog has led the way in formulating a policy action plan for Online Dispute Resolution or ODR. ODR is a fast-evolving dispute resolution mechanism that uses technology not just to aid but to proactively assess efficient and affordable justice delivery.
It can be used as a mechanism for solving disputes outside of the formal court system in an affordable and quick way, especially for small and medium value matters.
Due to the pandemic, we will now likely see a deluge of disputes in courts that will require expedient resolution. That is why new innovation models such as Online Dispute Resolution including for mediation need explicit support.
NITI Aayog established a Committee chaired by Justice (Retd.) A. K. Sikri to formulate an action plan for ODR in India. Members of the Committee include several Secretaries of the Government of India, including the Law Secretary, Justice Secretary, and others.
While preparing the draft report, we have conducted approximately 20 stakeholder discussions across diverse specializations, and engaged with domestic and international experts, with nearly 100 engagements at an institutional and individual level.
This policy framework has been universally well received, and has received the support of several members of the judiciary as well as all other stakeholders.
Our hope is that we put in place a report and action plan that not only enables ODR in a sustainable framework now, but one that adapts and endures the test of time for it to become an option of first recourse for several categories of claims in a dynamic fashion.
A robust ODR ecosystem in India will:
have high potential to reduce the load on courts by resolving high volume of disputes outside the court.
allow gaining access to justice and ease of doing business by making dispute resolution cheaper, quicker, and most importantly, equally credible as conventional methods
This Committee has tasked itself with creating a framework for technology led dispute resolution which assists the formal court system, and lays the groundwork for a scalable and adoptable mechanism that stands the test of demand and time requirements.
Mediation is well on its way to becoming a major mechanism for dispute resolution, due in large part to the work of the Mediation and Conciliation Project Committee (MCPC)
It will be incumbent upon all of us to help mediation benefit from major increases in capacity, capability, and training processes.
Mediation provides us an opportunity to assist in creating a framework that allows matters to be resolved before entering the formal court system.
It can also help reduce pendency and bring justice at an earlier juncture where possible.
I am told that Courts across India have set up court annexed mediation centres, including but not limited to the Bangalore Mediation Centre by the Karnataka High Court and Samadhan by the Delhi High Court.  
During the pandemic, some court annexed centres such as Samadhan have in fact led the way in adopting ODR, through programs like the 'On-Line Mediation Project'.
It could also be considered to use the precedent of mandatory pre-litigation mediation as has been proposed in the Commercial Courts (Pre-Institution Mediation and Settlement) Rules, 2018 which were framed to help resolve matters relating to commercial disputes in an efficacious and expeditious manner.
We are at an important cusp in India where justice delivery is being looked at carefully and progressively by both the Courts and by the Government.
Mediation is a vital cog to helping expedite access to justice at every level of commercial and civil disputes.
I congratulate the Singapore International Mediation Centre, CAMP Arbitration and Mediation Practice, and Mediation Mantras for organizing this event.
I am told that there is a mediation pledge in the works, as a post-summit project, which could help build awareness across India.
I am delighted that NITI was a part of this extremely important conference, and I am excited for the potential of mediation in India.
I once again share my gratitude to the Honourable Chief Justices for their insightful addresses.
Thank you very much.