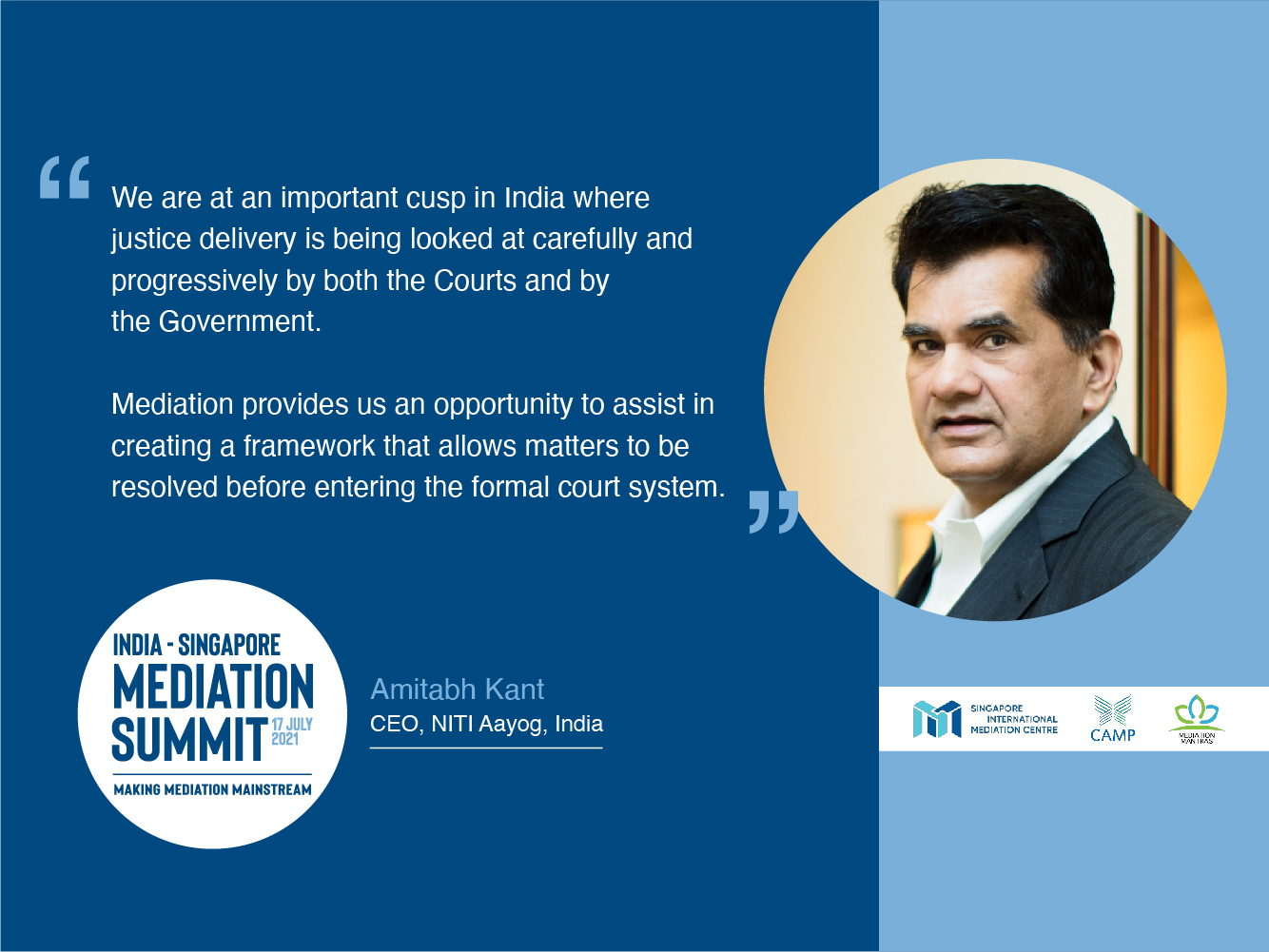 Address by NITI Aayog CEO Mr Amitabh Kant at ISMS2021
17th July 2021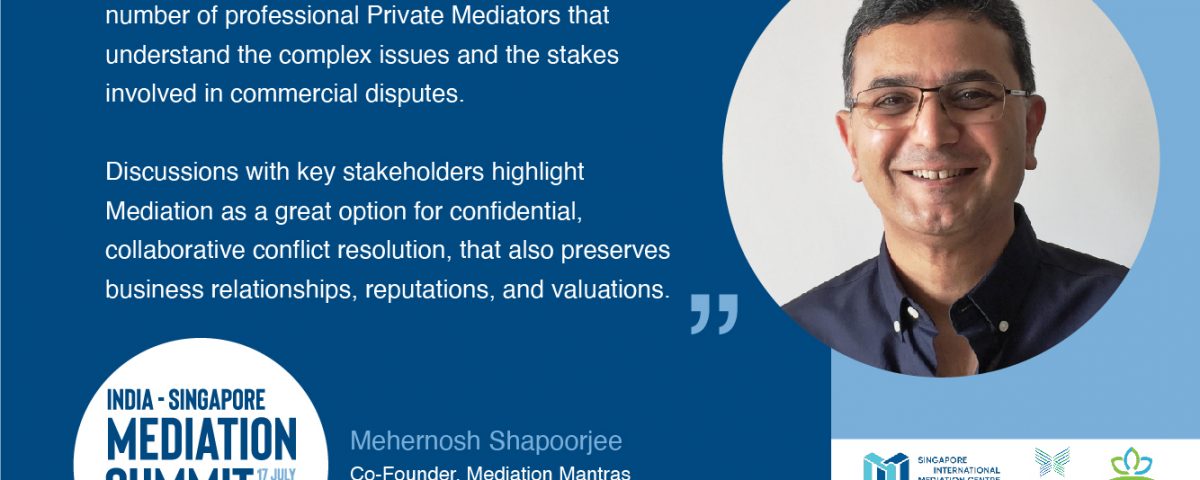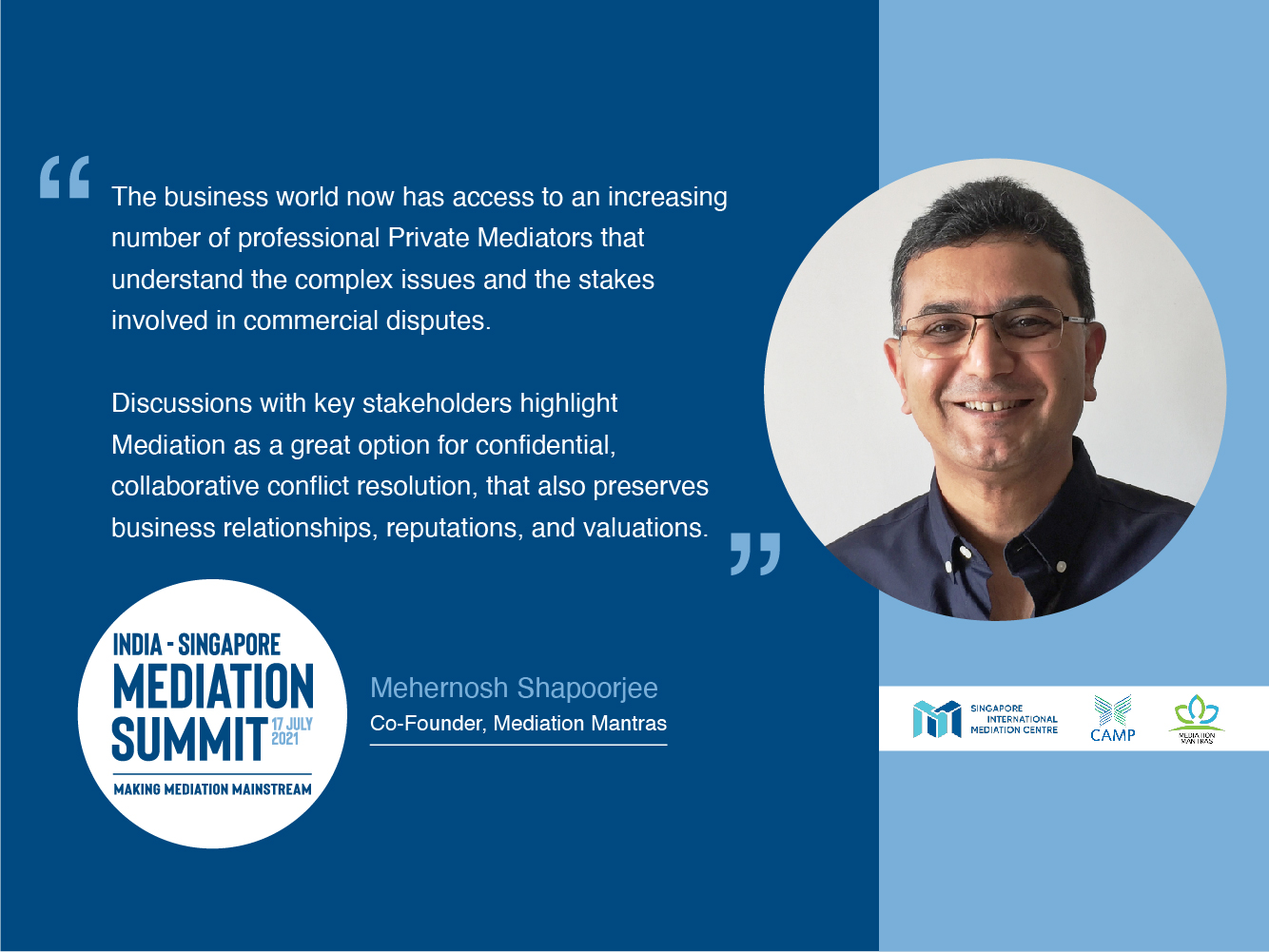 ISMS2021 Closing Remarks
by Mehernosh Shapoorjee, Co-Founder of Mediation Mantras
Good afternoon, everyone, Namaste!
I'd like to begin by expressing my gratitude to all those who participated in ISMS2021 today, and for those who took time out to share their thoughts and ideas with us.
Our Keynote speakers: The Honourable Chief Justice N.V. Ramana, The Chief Justice of India. The Honourable Chief Justice Sundaresh Menon, Chief Justice of Singapore.
Our Special Guests: Mr Edwin Tong SC, Second Minister for Law, Singapore. Mr Amitabh Kant, CEO of Niti Aayog
Our Panellists: Justice AK Sikri, Mr Sriram Panchu, Ms Mayuri Khatu, Ms Lai Wei Lin, Mr George Lim, and Mr Gregory Vijayendran.
Thank you for your wisdom, and the generosity with which you shared your ideas and anecdotes with us today.
Having heard all that we all did today, I ask myself, what did the India – Singapore Mediation Summit teach me today? And what is the value of this new information?
It will come as a surprise to most of you, that I am not a lawyer turned mediator. I'm a corporate world professional, turned mediator.
Having spent 30 years working with multinational firms and on multi-stakeholder projects,
This is why I absorb information and look at things through a business and socio-economic lens.
As a businessperson dealing with disputes every day, I heard everything today, and asked myself:
How is Mediation different from other methods of ADR?
What's in it for me?
What do I need to do to get Mediation to work for me?
The answer to the first question has been detailed throughout the morning today.
Mediation is the most empowering form of dispute resolution available to us.
Mediations are facilitated by skilled mediators, but mediated solutions are curated by the parties themselves, so, the solutions are more sustainable.
What's in it for you?
Well, the availability of mediation, is a key element in the ease of doing business.
As both the Honourable Chief Justices said earlier today, disputes are unavoidable in business.
So, the question is, how do you manage disputes?
Litigation puts you through a lot of financial and emotional stress, before it can give you relief.
Mediation is more immediate, and less is painful.
There is no third-party judgement, and there are no losers in a Mediation.
In a good mediation, business interests are preserved, brand reputations are protected, and business relationships are strengthened.
This brings us to the last question: What do you need to do?
Let us look at ISMS2021 as a solid bridge between the old and the new ways of commercial dispute resolution, and an opportunity to reach out to all of us.
Let us begin deeper, more meaningful conversations on the issues at hand.
Let us as businesses, lawyers, and mediators understand how we can work together and help each other and resolve disputes before they get out of hand.
Consider pre-litigation mediation as your first port of call for civil and commercial disputes.
We can connect you with an increasing number of professional Private Mediators that understand the complex issues and the stakes involved in commercial disputes.
Depending on what your conflict is, there will be more than one good mediator who can mediate solutions for you.
There are organisations like Samadhan and Maadhyam in Delhi. AMP in Mumbai. Our partners CAMP, in Bengaluru. FCDR in Chennai. IIAM in Kochi...
Then there are some great mediators that transcend location and category.
Like Mr Sriram Panchu, Mr Amarjit Singh Chandhiok, Ms Laila Ollapally, Ms Sheela Balsari, Mr Sudhanshu Batra, Ms Sadhana Ramachandran, Mr JP Sengh, Mr AJ Jawad, Mr JLN Murthy, Ms Uma Ramanathan, Ms Tanu Mehta, Ms Chitra Narayanan, Mr George Merlo Pallath, Mr Prathamesh Popat... these are just mediators in India, that I have interacted with personally…
And SIMC, led by George Lim and Chaun Wee Meng, can connect you with the best mediators from around the world!
But not everyone is a George Lim, or a Sriram Panchu.
As Mediators, we recognise that we have to build professional capacity at scale, with rigorous training programmes, refresher training programmes, and have to set consistent standards and apply quality checks for mediators and mediations in India.
So that when you place your trust in a mediator, it isn't misplaced.
What does the future of mediation look like?
We have more than 40 thousand and growing Court annexed mediation centres, and around 1.5 lakh trained mediators in India today, that are nurtured and encouraged by the Judiciary, led by our honourable Chief Justice.
You will be happy to know, that large corporate law firms are investing time and money to understand how they can use mediation to best serve their business interests.
Mediation Mantras is working with one of India's largest law firms, to develop a deep understanding of mediation and how it can help its clients resolve disputes constructively.
This Mediation Advocacy programme is being developed with SIMC, and we'll be making an announcement about it soon.
What we need, is to engage one another deeply, and start building circles of trust, a robust ecosystem, of alternative dispute resolution mechanisms, that work together, for the benefit of all.
I hope, ISMS2021, with the enthusiastic participation of key stakeholders in dispute resolution, will instil confidence in the judiciary, the legal community, the business community, and among existing and potential litigants, that Mediation is a great option.
And today can be the start of the Mediation Mission Mode, for many of us.
For all of us, Mediation is the common ground that will enhance the ease of doing business.
And as our Honourable Chief Justice said today, mediation when done well, can truly help facilitate justice for all.
Thank you.